The organizers releases the weekly eviction voting charts, and one of the housemates surprised everyone with votes 
The 2020 season of the Big Brother Naija Lockdown edition may have come and go, with Laycon winning it, hence smiled home with the N85,000,000 winning prize.
But the organizers have however decided to reveal the full details of the weekly voting chart for the Big Brother Naija lockdown season, which showed how a particular housemate dominated the voting chart by securing at least, 24% of the total votes each time he was on the list.
It should be recalled that in a surprise twist, the organizers for several weeks only revealed the votes of the bottom four housemates on the eviction list.
In this year's edition of the reality show, the organizers decided to put up all the housemates for possible eviction and the least voted four housemates will be put up for the final eviction, which was done by the other housemates. This continued for the first few weeks of the show,
The organizers in a statement on Thursday, revealed to the viewers and lovers of the biggest reality TV show on the continent, how Laycon who emerged as the winner of the show, topped the charts every week he was up for eviction.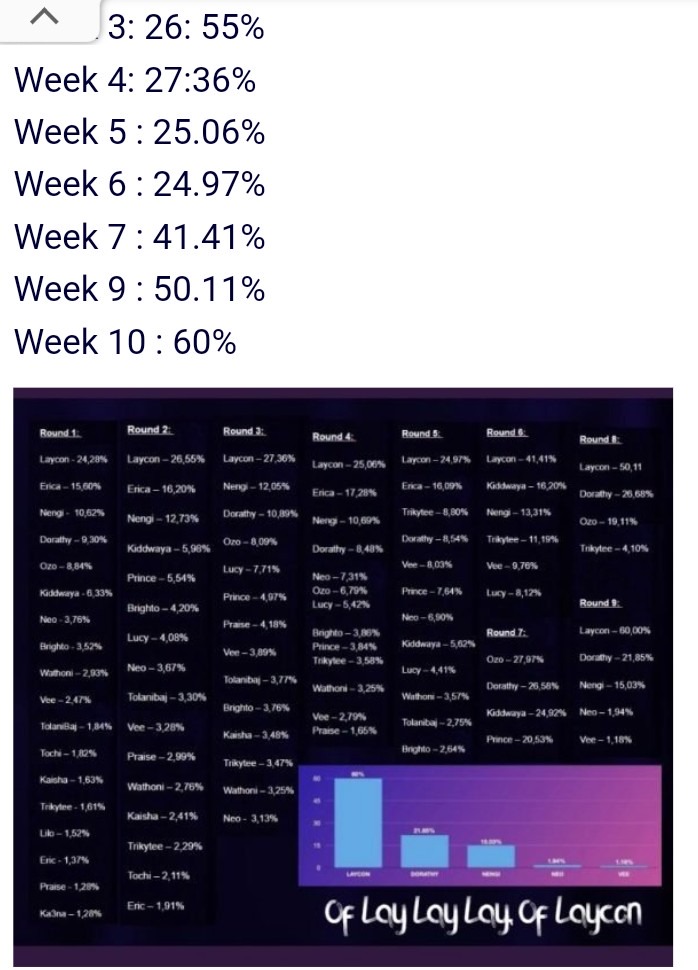 Erica, Nengi and Dorathy came second, third and fourth respectively. Laycon, who stile the hearts of the viewers of the show in the second week of the reality show, was loved for his intelligence, humility and of course, contents delivery.
The votes of Laycon were as follows;
Week 2: 24.28%
Week 3: 26: 55%
Week 4: 27:36%
Week 5 : 25.06%
Week 6 : 24.97%
Week 7 : 41.41%
Week 9 : 50.11%
Week 10 : 60%